PIONEERS
Pioneers of enterprise consent and preference management functionality​
MyPreferences is the only consent and preference platform purpose-built to manage all aspects of zero-party data functionality​. It empowers your customers' voice so trust is built, and relationships are enriched.
View infographic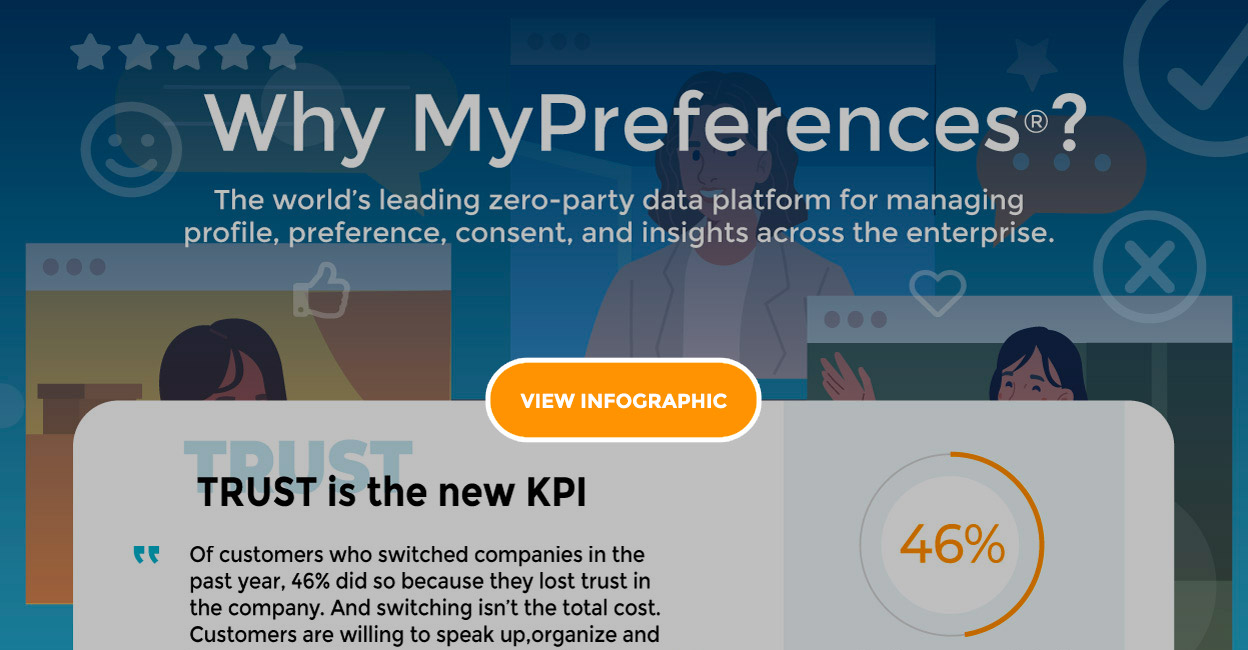 PossibleNOW is in the Gartner Market Guide for Consent & Preference Management!

READ NOW
How Preference Management Improves CX in a Cookieless World​
Experiences
Simplifies zero- and first-party data experiences
Data
Delivers unprecedented insights for meaningful interactions
Connectivity
Infuses customer data across every touchpoint
Features that enable you to deliver personalized interactions based on customer preferences, consents, and insights​
End-to-end configuration management
Maintain configuration for all zero-party customer experiences across any locale.
Supports data management for households, IoT, & shared profiles.
API-first data model supports highly configurable and granular preference & consent structures.
Isolate views by departments, teams & groups for configuring large enterprises
No-code experiences
Create multilingual & fully responsive zero-party data experiences.
Supports JavaScript, CSS and HTML for enhanced styling.
Supports JSON Web Tokens (JWT) to ensure source integrity and authenticity.
Supports WCAG 2.1
Do Not Contact compliance
The only zero-party data platform natively integrated with a Do Not Contact solution.
Performs automatic contact checks against National, State, Wireless and Internal Do Not Contact Lists.
Maintains Safe Harbor Defense by keeping a record of all checks.
Propagation Engine
Propagates preferences across multi-level communication hierarchies.
Propagate consents to matching contact methods (e.g., phones, emails) within profiles.
Propagate calling device statuses (mobile vs landline) to matching numbers across profiles.
Complete auditability for expressed & implied consents & preferences.
Intelligent Data Validation & Business Rules
Built-in data validations and checks to enforce consent and preference compliance rules.
Preserves preferences and consents when updating contact elements (emails, phones, etc.)
Custom RegEx support, automatic address standardization, express wireless checks, phone and email validation, and much more.
Full-featured CSR portal
SSO-enabled agent interface for managing zero-party data on customers behalf.
Granular permissions to provide specific access to service agents.
Built-in auditing & transaction history across all customer data points.
Harmonization engine / single source of truth for all zero-party data.
Universal Consent Repository
A single place to manage all consents for an individual or device including their consent history.
Built-in localization for multilingual consent experiences
Manage consents for any data category independent of a preference, contact element, or channel.
Connect consents with preferences & contact elements, to ensure accurate tracking of customer interests and preferred channels.
Reporting & Analytics
Offers a suite of out-of-the-box standard reports and dashboards based on zero-party data captured throughout the customer journey.
Publish reports and information summaries in real-time with all users, providing them with dynamic visualizations of essential customer data metrics.
Create customized reports and dashboards to gain complete visibility into customers' zero-party data throughout all stages of their journey.
Data Insights
Leverage our third-party data services to enhance data quality including real-time validation and other overlays to provide insights that help complete the customer profile.