FINANCIAL
Implement Opt-Down Options to Grow Revenue
PossibleNOW helps global financial institutions with multiple business units maximize their ability to engage with customers and expand their footprint across the customer lifecycle. By offering flexible preference and consent configurations they reduced global opt-out rates leading to upside potential of $9.6 million in revenue over five years.
Providing Powerful Results
$10M
Revenue Growth Over 5 Years
---
CHALLENGES
Challenge & Solution
Company Overview
As one of the largest financial institutions in the world, our client has a very complex and multi-layered organization. Across all their various divisions and business units, many customers will never interact with more than two or three of the products and services they offer.
The financial institution's core challenge was engaging customers with relevant communications. Their global opt-out rates were high due to over-communication for products or services the customer did not have or want.
The Challenge:
Reduce Overall Opt-Out Rates to Grow Revenue
The company was losing the opportunity to continue marketing to their customers. They had a critical need for a system that would track…
which customers fell under which business units
which products or services they purchased
what their preferences and interests were, and
they needed to share that information across the entire organization
Further, they required the ability to compile customer profiles in a preference center, enabling them to tailor their engagement efforts to provide what their customers wanted and needed. Allowing customers to opt-out of specific communications and into others meant that each business unit could maintain their own specific list of opt-outs and opt-ins, keeping customers within their marketable universe as long as possible.
As some customers would never engage with the company for certain things, and some would potentially be interested in other products in the future, giving customers the flexibility to opt-in or opt-out from products with ease was paramount.
Solution
Implement Opt-Down Strategy
PossibleNOW's team of strategic consultants helped assess these problems at a deeper level, identifying specific problem areas and recommendations to mitigate their global opt-out rates.

By holding an opt-down request to one specific product line or communication type, the company was able to keep those contacts active for other possible products or service engagements.

Through our engagement, we were able to advise our client on the best design for their preference center and how to enhance adoption of their mobile app, increasing consistency across the customer journey.

The financial institution was able to increase their acquisition of new customers across new product lines by keeping customers within their marketable universe and improve customer retention and customer engagement.


The Numbers
Utilizing a proper opt-down page saves a minimum of 60% of global unsubscribes. Using that estimate, the pet insurance division was able to keep ~20,600 contacts in their marketing universe and cross sell a pet insurance policy to 8% of them on average. With a revenue growth rate of 15% YoY, the potential upside revenue from the opt-down program will be just under $10M.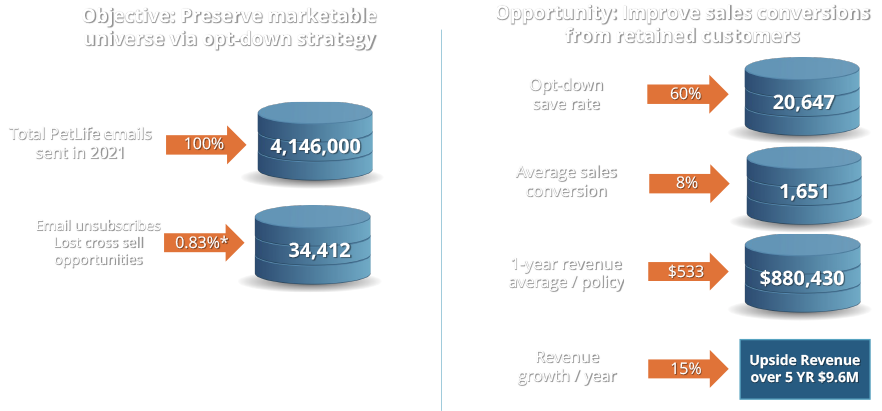 How much revenue could your company gain? Schedule time to find out
Schedule Now