PRODUCTS
Products
Our platform increases the life-time value of customer relationships by putting customers in control of their data, honoring their wishes, and providing personalized customer experiences all while maintaining compliance.
THE LEADER
PossibleNOW is the leader in the consent, preference, insight, and compliance marketplace
PossibleNOW has been introducing industry-leading SaaS technology and services since 2000. All our platforms mitigate risk by being time-tested and providing "Compliance by Design" systems and processes, with the technology to deliver at scale, accommodating companies of any size or complexity.

MyPreferences collects, centralizes, and distributes customer zero-party data (like preference, profile, insights, and consent data) across complex enterprise organizations.
Pricing for growth companies start at:
$2000 / month

DNCSolution handles multi-channel direct marketing compliance, helping you mitigate risk for Do Not Contact regulations such as TCPA, CANSPAM, and CASL.
Pricing for growth companies start at:
$150 / month

RegInfoHub provides easy access to ever-changing regulatory compliance such as state and federal DNC laws, TCPA regulations, and more, packed within the industry's most comprehensive and easy-to-use direct marketing guide.
Pricing for individuals start at:
$100 / month
Forrester: Preference Management is a Strategic Investment for Engagement
Research Report
MYPREFERENCES
The industry leader for capturing and maintaining customer zero-party data, including consent, preferences, insights, and compliance data.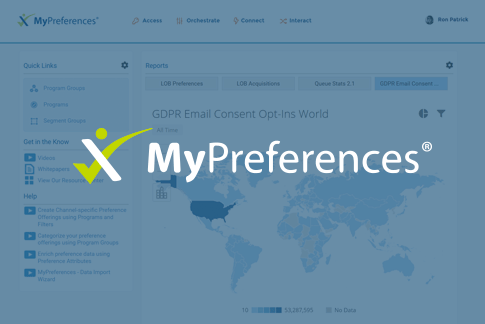 MyPreferences
MyPreferences provides a holistic view of your customers across the customer lifecycle, providing the ability for customers to give feedback and opinions, state their preferences, and give or revoke their consent. MyPreferences holds a comprehensive view of each customer's zero-party data in a centralized location that can be shared across your organization. Ensure that you have the correct and current data for every customer, collected at the right place in their customer journey, and at the right time.
More about MyPreferences for:
Learn More
DNCSOLUTION
The gold standard for maintaining Do Not Contact compliance across all of your customer outreach channels and processes.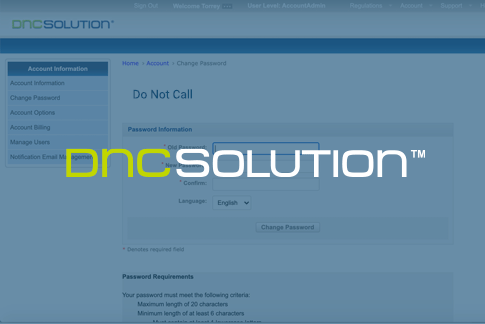 DNCSolution allows you access to all relevant state and federal Do Not Contact registries, so that you can feel confident about your compliance with regulations such as TCPA, CAN-SPAM, CASL, and more. Our platform provides a safe and secure way of scrubbing your contact lists and databases to make sure you are contacting the right people with their permission, with full historical record and reporting capabilities.
More about DNCSolution for Do Not Contact compliance.
Learn More
REGINFOHUB
The industry's most comprehensive and easy-to-use direct marketing compliance guide.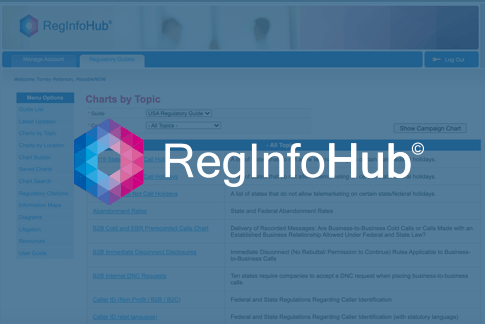 RegInfoHub provides access to current regulatory information and compliance guidance for phone, text, email, fax, and pre-recorded message communications. It allows you to easily create customized views based on topic and jurisdiction, so you can spend more time on marketing and customer service and less time on worrying about compliance.
More about RegInfoHub for regulatory information and compliance guidance.
Learn More