TCPA
The Telephone Consumer Protection Act (TCPA)
One of the riskiest regulations in the United States to run afoul of, the TCPA carries harsh penalties, extraordinary fines, and the potential for lasting damage to your brand's reputation.
Customers expect more out of your company than unsolicited calls. Stay on their good side through proactive DNC compliance.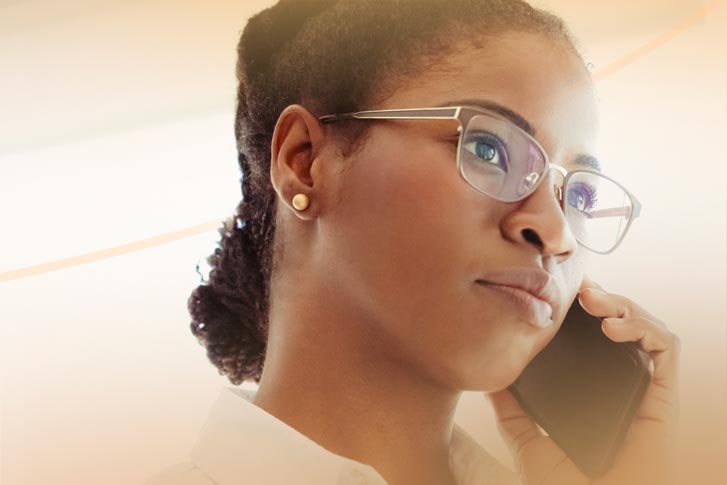 Passed in 1991, the TCPA is a federal U.S. law created in response to consumer concerns about telemarketing, specifically addressing complaints leveraged at the FCC regarding companies using telephone contact for business purposes or solicitation. At its core, the TCPA sets guidelines for appropriate telemarketing practices, including restrictions on the use of automated telephone dialing service (ATDS) equipment, and puts the burden on companies to maintain do-not-call lists of consumers who have opted out.
The TCPA limits the use of a variety of devices and practices often used in telemarketing:
Pre-recorded messages
Artificial messages, commonly referred to as "robo-calls"
Automated telephone dialing systems (ADTS)
Text messages and fax machines
Other provisions of the TCPA include:
The prohibition of calling residences outside the hours of 8am and 9pm local time
The requirement that the caller identify themselves and/or who they are calling on behalf of, and provide a phone number or address for the company
The prohibition of making automated or artificial calls to emergency lines, doctors' offices, mobile phones, or any recipient who will be charged for the call
The prohibition of sending unsolicited faxes to businesses, or auto-dialing more than two lines of the same business
The requirement of maintaining a company-specific do-not-contact list of recipients for five years, as well as honoring the National Do Not Call Registry
RISKY
What makes the TCPA so risky?
Damages awarded for violations of the TCPA can be eye-opening. A consumer could potentially be awarded:
Up to $500 for each violation of the do not call registry
Up to $500 per phone call that violates the TCPA
Up to $1500 per phone call if the consumer can show that the company disregarded the TCPA knowingly and willfully
Learn how to mitigate TCPA compliance risk
Learn How
VIOLATION
Travel Club Marketing
FCC fined the Travel Club Marketing, Inc (dba Diamond Vacations) $2.96 million for making robocalls that violated the TCPA. Specifically, the company was charged with making 185 robocalls to the cellphones and telephone lines of 142 consumers, many of whom placed their number on the national Do Not Call (DNC) registry.
$2.96 Million
Fine Amount
REGULATORY
Recent Regulatory Changes
New regulatory updates related to the TCPA have recently come into effect, and companies must be aware of these and prepare for compliance, or risk being in violation of certain statues of the TCPA:
Reassigned (Telephone) Numbers Database
Beginning October 1st, 2021, the Reassigned (Telephone) Numbers Database (RND) is scheduled to become available for production use. Callers and their caller agents must validate the status of a phone number prior to calling in order to see if it has been permanently disconnected.
The RND tracks landlines, wireless numbers, and VOIP.
Learn more about this database and how DNCSolution can help.
Learn More
Florida Telemarketing Rules
The state of Florida has recently updated the Florida Consumer Protection Law and the Florida Telemarketing Act, to extend beyond certain limitations in the TCPA and is in effect as of July 1st, 2021.
Among other new provisions, the law includes a presumption that any call to a Florida area code is a call to a Florida resident or a person in the state of Florida – so all companies should be aware of this risk and prepare for compliance.
Learn more about this new regulation and our recommendations for compliance.
Learn More
HELP
How PossibleNOW can help
PossibleNOW's platform DNCSolution helps companies comply with the TCPA in crucial ways. DNCSolution handles direct marketing compliance with relevant legislation across all channels of communication including, calls, texts, emails, faxes, and direct mail.
DNCall and DNText feature include:
High-volume scrubbing against all relevant Do Not Call databases, including state, federal, wireless, and company-specific lists
Scalable technology to handle multiple call centers and thousands of representatives
Enable compliant mobile marketing campaigns via text
Collect and manage opt-out requests for calls and texts to landlines or mobile numbers
Exceptional customer support and application training for your team
Integrates into your own current business technology stack
100% compliance guarantee
Staying in compliance with Do Not Call regulations like the TCPA is an essential part of doing business today. Work with a compliance partner like PossibleNOW that helps you avoid upsetting your customers, violations, and falling behind on regulatory changes. You'll be able to focus your company's resources on other important projects with confidence, rather than spending all of your time working on call compliance and management risk.