CAN-SPAM
The CAN-SPAM Act
The CAN-SPAM Act of 2003 was created to protect consumers from unsolicited emails from brands and businesses. For every single email that violates the CAN-SPAM Act, the FTC could level a fine of $16,000.
Customers expect more out of your company than unsolicited, spam promotional messaging. Stay on their good side through proactive CAN-SPAM compliance.
CAN-SPAM ACT
What is the CAN-SPAM Act?
The CAN-SPAM Act establishes rules for commercial email and commercial messages. Recipients have the right to request a business stop emailing them. However, it doesn't just apply to bulk email – the Act defines "commercial messages" as 'any electronic mail message the primary purpose of which is the commercial advertisement or promotion of a commercial product or service,' including email that promotes content on commercial websites. The law makes no exception for business-to-business email."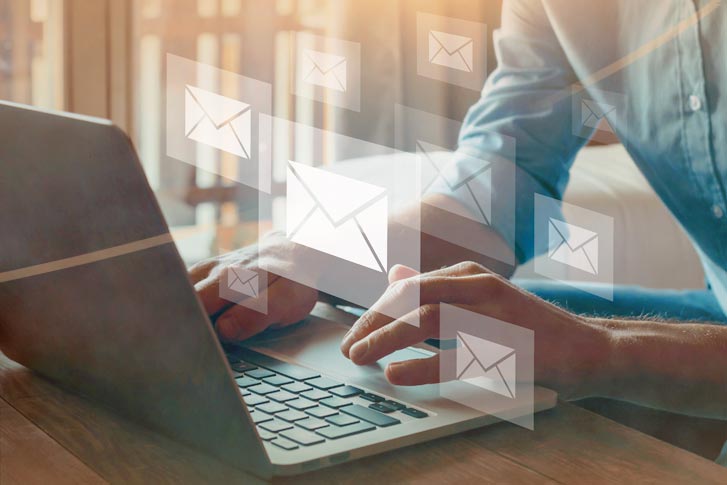 Emails sent as a commercial message must comply in three key areas:
Unsubscribe
Companies must provide a clear and obvious way to opt out of every email sent, and must honor any unsubscribe requests within 10 business days.
Companies cannot charge a fee for opting out, require any information other than email address, and make recipients take any steps beyond replying to an email or visiting a single page to unsubscribe.
Content
Companies must include a valid postal address in every email sent.
Emails or messages must include clear "From," "To," and "Reply to" language that is accurate, including the person or business sending the email, but also the domain name and a clear email address.
Subject lines must be clear and not deceptive or misrepresent the content of the message. Advertisements must be identified.
Sending Behavior
It is the responsibility of companies to monitor what third-parties are sending on their behalf.
Companies may not sell or transfer names to other lists once a contact has opted out.
The CAN-SPAM Act also prohibits:
Accessing someone else's computer to send unsolicited emails.
Using false information to register for multiple email accounts or domains.
Relaying or retransmitting commercial messages to disguise their origin.
COMPLIANT
How do I know if my email communications are compliant under the CAN-SPAM Act?
Compliance with the CAN-SPAM Act depends on the nature or purpose of your commercial message or email. The primary purpose of a message typically falls under one of two types:

Commercial content. This advertises or promotes a product or service and includes content on a commercial website.
Transactional or relationship content. This facilitates or updates a transaction that was already agreed-upon or is ongoing.

CAN-SPAM does not concern itself with transactional emails outside of a few stipulations: messages may still not include any misleading information or subject lines and must still provide identifying information, including a physical address for the company.

The content of transactional or relationship messages is more loosely regulated. They may include information about:

Warranty, recall, safety, or security information about a product or service
Changes in terms or features or account balance information regarding a membership, subscription, account, etc.
Employment relationship or employee benefits
Delivering of goods or services the recipient has already agreed to

However, if you are sending commercial messages with the primary purpose of advertising or promoting your goods or services, beware! CAN-SPAM violations can be costly, and issue significant reputational damage to your brand.
Learn how to mitigate TCPA compliance risk
Learn How
VIOLATION
ValueClick, Inc.
Online advertiser ValueClick, Inc paid a fine of $2.9 million to settle FTC charges that its advertising claims and emails were deceptive, claiming consumers were eligible for "free" gifts, including laptops, tablets, and gift cards, when in reality consumers would need to expend significant amounts of money to obtain any promised "free" merchandise.
HELP
How PossibleNOW can help
PossibleNOW's platform, DNCSolution, helps companies comply with CAN-SPAM in crucial ways. DNCSolution handles direct marketing compliance with relevant legislation across all channels of communication, including calls, texts, emails, faxes, and direct mail.
DNEmail features include:
High-volume email list scrubbing – handle single emails, thousands or even millions of email addresses
Provides a one-click opt-out solution for compliance
Offers flexibility to manage opt-out requests company-wide, or more specific by product, campaign, division, or department
Provides scrub receipts for a record of email compliance
Exceptional customer support and application training for your team
Seamless integration with existing systems
Maintains a historical archive of all opt-out requests
Staying in compliance with Do Not Email regulations like CAN-SPAM is an essential part of doing business today. Work with a compliance partner like PossibleNOW that helps you avoid upsetting your customers, violations, and falling behind on regulatory changes. You'll be able to focus your company's resources on other important projects with confidence, rather than spending all of your time working on email compliance and management risk.